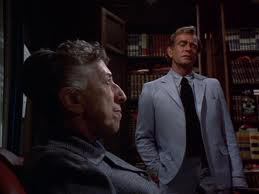 Professor Crabwell was a professor of arcane folklore at the college where Louise Harper was studying. She was played by Margaret Hamilton.
The Night StranglerEdit
Carl Kolchak asked Professor Crabwell for details about the mysterious strangler. She first gave him the idea of the Elixir of Life.
Appearances
Edit
This was one of the supernaturally-related roles that Margaret Hamilton played, being best known for her performance in The Wizard of Oz as the Wicked Witch of the West. She also played a more benevolent witch in the film 13 Ghosts.